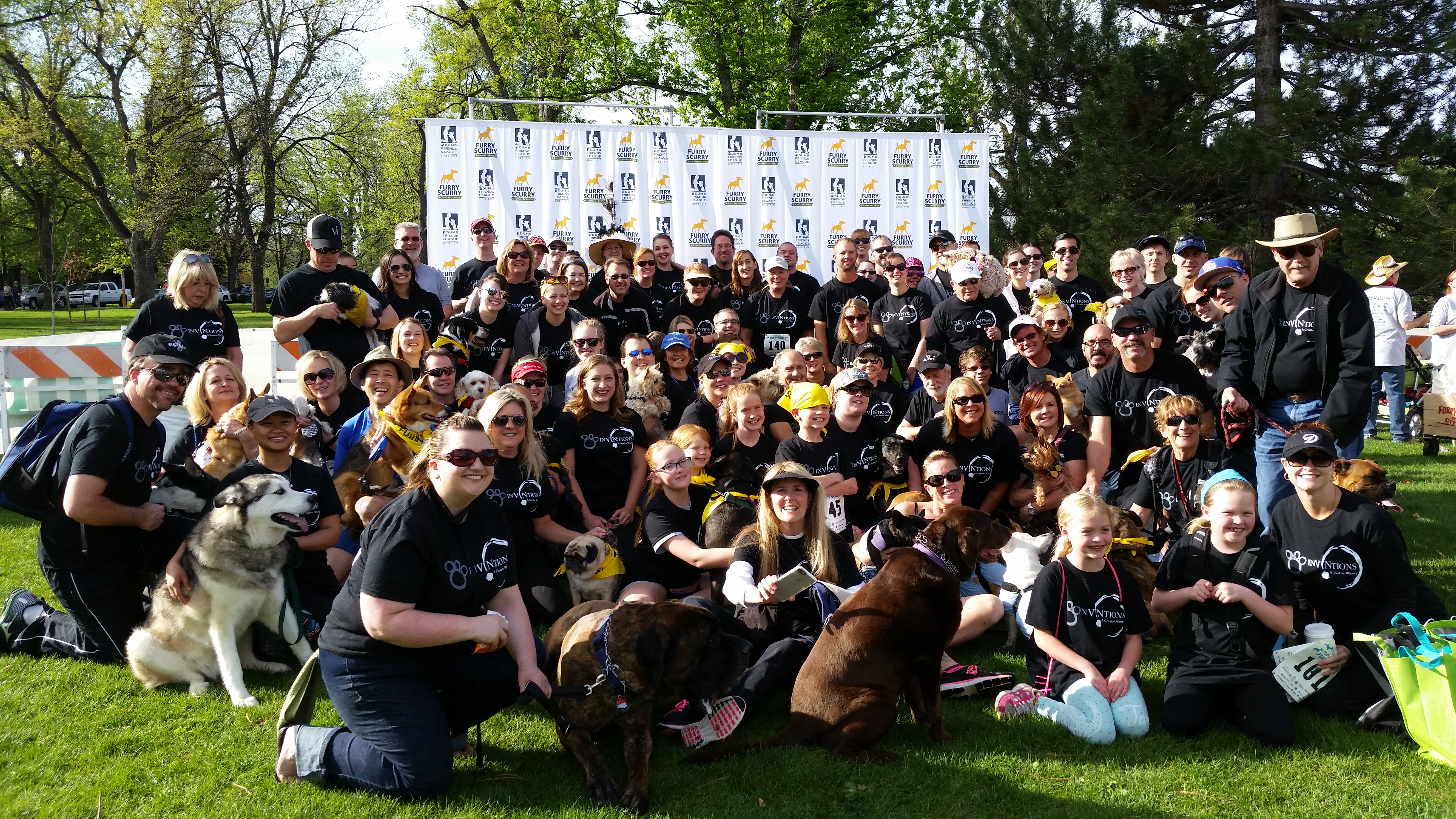 The 2015 Furry Scurry was at Washington Park on Saturday, May 2. Once again, the InVINtions, A Creative Winery/Tipton Law Firm Team came out to the event this year with an even larger team than last year's record setting group. To date, the team is 134 members strong, and has raised over $42,000.00 for the Dumb Friends' League. Fundraising continues through June 1, so if you have not already donated, please consider a donation to the InVINtions, A Creative Winery/Tipton Law Firm Team in support of the League.
This year's team included too many patrons of the winery and the law firm to name them all, and each and every one of them made a unique and very needed contribution to support the League. Team building and fundraising efforts start earlier and earlier each year, and for the 2015 Scurry the team started rallying in December. The growth and fundraising efforts continue to be exponential year over year; from 33 members, and $8,000.00 raised in 2009 to 121 members and over $35,000.00 raised in 2014. InVINtions, A Creative Winery Assistant GM, Aaron Pucel, said of this year's efforts, "this was my first Furry Scurry experience, and I cannot believe the momentum and drive this Team has; over $42,000.00 raised for this local charity by 134 members… incredible!"
This year was the third, and most successful, year of the team's on-line silent auction, and it was epic! In 2014, the silent auction brought in nearly $8,500.00, but this year, fundraising jumped to nearly $14,000.00 raised in the silent auction.
As in all the previous years, the Law Firm opened its private wine cellars to provide some great incentive items to its participants over the age of 21.
You can still donate to the League, until June 1, by clicking here.
Check out the photos from the event here!
The Tipton Law Firm, formed in 1979, is a Denver based firm focusing on Business and Estate Planning as well as many regulatory disciplines. The attorneys who are part of the firm have over 150 years of collective practice experience. Making a difference in the local community is an essential part of life in The Tipton Law Firm. Each employee and attorney is encouraged to become involved in civic activities. For more information, please visit the Firm's website at www.thetiptonlawfirm.com.
InVINtions, A Creative Winery, is a locally family owned & operated business run by 3rd & 4th Generation Coloradoans. Their fully operational winery is located in the heart of the Denver Tech-Center in Greenwood Village. Yes, they are an actual wine-making operation, run by an award winning wine making staff! InVINtions' wine is made using grapes from all over the world; it is low in sulfites and fruit forward, in the European tradition. With 1/10th of the chemical preservatives that you'd find in most wines in the USA, their wine is softer on the palate, meant to be enjoyed young, and ages beautifully within just a few years.